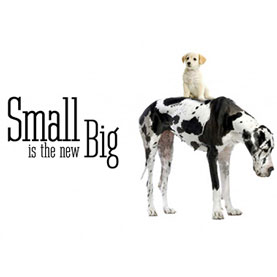 Yes, most businesses are successful and profitable in today's competitive environment only by virtue of being a small business ( minimal infrastructure) and with fewer effective staff with big result. Let me explain .. why do you need this , what it means to you and how you can achieve .
Do you need to reinvent you size – many a times entrepreneurs think that a big swanky office and having big profile managers etc etc may fetch them earn some browny points from customers but often times it is not. Please remember that your end user is always worried about the value that you bring to their table and the price that they pay and lastly he may want give you an extra opportunity if your relation is good with them, nothing more than that.
When is the right time to add flab – If you are a business that is traditionally run with full time customer interfacing, then you might as well continue doing that until you build some kind of monopoly or have some innovation which invariably binds your customers to your business.Simply because you have a volume of transaction doesn't necessarily mean you can add flab ( middle management ) around you .
Clear the corporate fog – Trying to be a corporate like is not a bad idea but the first things to be followed should be the best things the corporate does for example deadline orientation , high P &L focus , accountability , clarity in job functions and training etc but not to look for corporate cultural activities , holiday list etc.
Work – life balance in corporate means work more to balance your life, so, the need of the hour is corporate like thinking and working before encompassing all virtues of corporate.
How to identify redundant resource – best way is to give your test group a paid holiday ( lol – paid – off ) and to your surprise you may not see any productivity loss.
When to scale-up – It's all in the mind. Scale up means adding more customers and adding further value to the customers not by adding non-functional offices and team members , the ideal time you add additional resource is only when you experience excess spill over ( losing opportunity due to lack of resource)
Way forward – for all the start-ups , try and identify business that require lesser back-end infra or look for smart technology alternatives to support growth for all the existing businesses question yourself if your existing resource is adding value or burden to your customers and P & L .
Source: https://www.linkedin.com/pulse/20140808032339-28543336-why-small-is-big-and-less-is-more-in-today-s-business?trk=prof-post