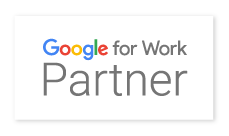 We are proud to announce our association with Google and become Google For Work Partner. We already have 10+ brands trusting us and 100+ Google Apps licenses deployed in total for clients in various sectors including overseas education consulting, health & wellness, retail and many more.
Google Apps provides a powerful battery of cloud based productivity suite which boosts productivity and in-turn helps your organizations to realize your ROI.
As a part of our Google for Work practice, we are poised to help more and more organizations to migrate and explore the full potential of Google's cloud based productivity suite. As your "Cloud Partner", we can help you with Consultation, Deployment, Training, Mobile Device & Remote Management and Support and get you going on Google Apps.